Bathtubs - Types & Sizes
All you need to know about
Bathtubs

including the different types, sizes and costs.

Bathtubs come in many shapes and sizes; in fact, today, many bathrooms no longer have bathtubs, which is a major drawback for many buyers. Whether you prefer a standalone, an alcove, drop-in, or a corner-tub, there are many great styles to choose from. Whether you prefer to soak in and relax, or simply take a quick bath to help alleviate tension/soreness, the right tub will go a long way in ensuring optimal levels of comfort. When you're ready to install a new bathtub, these are a few of the options you can choose from for your bathroom area.
Bathtubs Sizes & Dimensions
The proper dimensions of a new bathtub are pivotal to you being able to fully utilise and enjoy the tub. You want something durable, easy to care for, and ultimately, a space where you can kick back and relax. Due to the many varieties, custom finishes and sizing you can choose from, homeowners should work with contractors to ensure proper fit for their new tub. Additionally, comparing different sizes allows you to find the tub which will fit into the dedicated space, or otherwise make room in the bathroom, for a new standalone tub you want to install.
List of Most Common Sizes
1700 X 700 mm (length, width)

1524 X 1041 mm (length, width) - standard oval tub

1400 X 850 mm (length, width) - standard free-standing tub

1350 X 700 mm (length, width)
Bathtubs Types
Understanding the different styles, finishes, and sizes of bathtubs is one of the many variables you have to consider if you are ready to upgrade your bathroom and install a new tub. Some are sturdier than others, some will provide eclectic stylings, and some are simply going to create a luxurious feel in the bathroom. Regardless of the ambiance, you are going for, there are a number of options to choose from when installing a new tub. These are a few of the most popular for you to consider as a homeowner when you're ready to upgrade your bathroom.
Fiberglass

Porcelain

Acrylic

Ceramic Tile

Cast-Iron
Fiberglass
Fiberglass reinforced plastic (FRP) is typically the least expensive material for your new bathtub. It is made by forming layers of fiberglass and applying a gel coat resin over it for protection. These are easy to install, low in cost, easy to maintain, and easily repaired if damage occurs. They are, however, thin, and aren't as durable as other materials, so consider this before opting for the cheapest option.
Porcelain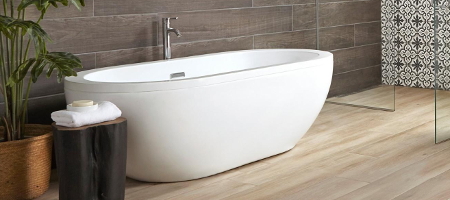 Porcelain on a steel base is another popular material option for new tubs. This enameled steel is inexpensive, easy to install, durable, and they are very easy to clean and care for. The finish is glossy and resistant to most chemicals/cleaning products as well. Over time, however, the surface can chip and rust, and these frames are heavier than fiberglass, making them a little more costly to install.
Acrylic
This finishes uses a fiberglass base to reinforce the tub, which is placed over a vacuum-formed sheet of coloured acrylic. Acrylic tubs are easy to install, durable, and they are lightweight. On the other hand, they do cost more than fiberglass tubs, they can discolour over time, and they are prone to scratches, because of the textured outer layering/material which is applied over the tub's surface.
Ceramic Tile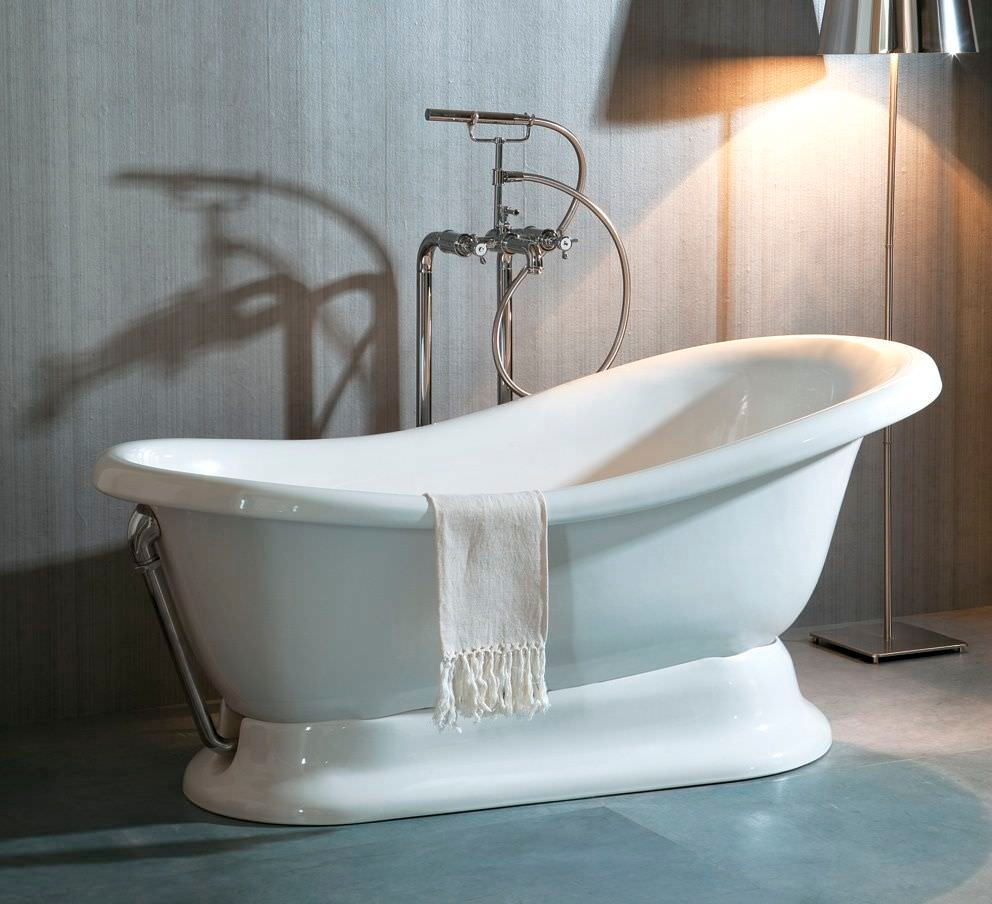 These tubs can be made to whatever dimensions/size the homeowner chooses. With this material, you have more design options in comparison to other material finishes. With this being said, the interior finishes/material might not be as comfortable as some others, the grout/sealants require maintenance, and the tubs require more cleaning to ensure they are preserved over time. They are also more expensive than other finishes/materials.
Cast-Iron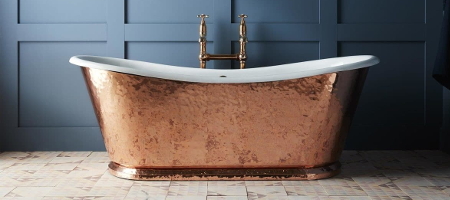 If you want something that will last, this is it. These tubs are made by pouring molten iron into a mould, into the desired shape, and smoothening the coating with a thick enamel finish. The finish is resistant to scratching, chemicals, denting, and chipping. You can choose from various colours, and can custom-finish the tub. They do retain heat well. They are, however, heavy, bulky, and costly to install.
Things to Consider before Buying
Not all bathtubs are created equally. Because of the variations on materials you can choose from, sizing options, and the ability to custom-fit a new tub in many larger bathroom spaces, homeowners should consider all of these factors before they choose a new tub design, size, shape, and materials. A new tub is going to greatly increase your home's resale value, and it is going to make a far more serene and calming environment in the bathroom. With this being said, you do have to budget accordingly, choose the right materials, and know how to properly care for and maintain your new tub.

Homeowners should consider coating, material finishes, and different cleaners which can be used, to properly maintain their new tub. All of these factors will not only help to extend the longevity of the new tub, but also help you choose the best material, given the size of your bathroom, and how you plan on taking care of it. Before you choose a new bathtub for your home, and settle on the material of choice, these are a few of the many factors homeowners should consider, to ensure the right choices are made for their new bathtub.
FAQ section
Are all materials similar?
No; there are many bathtub materials you can choose from. Additionally, there are several coatings, protective layers, and finishes which can be applied over your bathtub, to further protect it. Homeowners must consider the cost, but also the durability/longevity of the material, in order to make an informed decision when they're ready to install a new bathtub.
Are all tub sizes standard?
There is a standard size for tubs in the UK (1700 X 700 mm). With this being said, you can custom-fit a tub, you can choose from different sizes, shapes, and dimensions, and you can work with a professional to design your new bathroom to your specifications.
Which is the best material to choose?
Cast-iron is the most durable, but also the heaviest, and bulkiest material. If you are on a budget, enamel or porcelain finishes are a good option to consider. Your options are going to be limited by your budget, and size restrictions, when choosing the material for your new tub.
Can you choose from different colours?
Yes, most materials can be custom designed in a specific colour/texture, and finishes. Depending on the material, and how the tub is manufactured, there are several different options homeowners can choose from, when the time comes to install the new bathtub in their home.
How long will it take to install the new tub?
A new bathtub can typically be fitted and installed within 1 week. If there is custom-fitted, design, or installation, or if there is additional plumbing work which has to be completed before the new tub can be installed, this is going to increase the time it will take to install the new bathtub.