Kitchen Cupboards & Doors - Types & Sizes
All you need to know about
Kitchen Cupboards & Doors

including the different types, sizes and costs.

Kitchen cupboards are a great addition in any home. They help spruce up the look/feel of the kitchen, they are an affordable remodelling project you can do, and they can bring together a dated/dull space, for a much lower cost than other remodelling projects would. However, not all kitchen cupboards are created equally. When selecting the new cupboards you would like to install in your home, not only should you consider material finish and colours, but also the overall theme of your kitchen, and the desired look, to ensure the new cupboards are going to bring the space together well.
Kitchen Cupboards & Doors Sizes & Dimensions
The material you ultimately choose for your new kitchen cabinets should not be a decision you make lightly. In addition to being installed and remaining in place for years to come, you want something that looks good, is easy to care for, and is affordable. The best material finishes are not only going to match well with the rest of the decor you currently have in place in your kitchen, but it is also going to be easy to install in the home, easy to clean/maintain, and the cabinets are going to be sturdy, so you don't have to worry about damage after a few years.
List of Most Common Sizes
600 mm X 20 mm (length, thickness) - sold up to 1000 mm.

500-600 mm X 18 mm (length, thickness).

600 mm X 12 mm (length, thickness)

300 mm X 20 mm (length, thickness) - up to 1000 mm length.

600 mm length (thickness can be custom cut to fit standard cabinet opening).
Kitchen Cupboards & Doors Types
The material you choose for cabinets will vary greatly in every home. Design, overall appearance, your budget, the other finishes and detail work in your kitchen, and the types of appliances you have, are among the many factors you are going to weigh up when you are ready to choose your new cabinets. Ultimately, the decision is going to differ for each homeowner. It is important, however, for you to compare several materials to ensure you choose the most durable option and the one which is going to pair well with the rest of the decor you currently have in the kitchen space.
Solid Timber

Laminate

Plywood

Veneer

Standard glass
Solid Timber
You can't go wrong with a solid timber material when updating the cabinets in your kitchen. They are rugged, durable, they match well with all appliances (stainless-steel, black, white, etc.), they are easy to care for, and they won't get damaged/dented easily like other materials may. They rarely show signs of ageing, they blend well with other colours and palettes, and they will instantly recreate any dated appearance/finish in your home if it hasn't been upgraded in years.
Laminate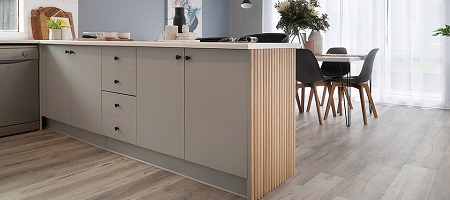 For the homeowner who is on a budget, you can't go wrong with laminate. It is sturdy, easy to care for, easy to install, and it is affordable. It also comes in various colours, grains, finishes, and detailed print designs. It looks great in any style of kitchen, and with nearly any theme or decor you want in the space.
Plywood
The sleek look of plywood's construction, not only gives it an appearance of something far more luxurious than it really is, but is a material which is also easy to install and care for after your new cabinets are in place. It gives the kitchen a chic/elegant appeal, it is durable, and it is a very cost effective solution, for those who plan on remodelling the entire kitchen but may be on a tight budget .
Veneer
A pre-finished veneer is another great option to choose when installing new kitchen cabinets. It is sleek, the shiny finish adds detail and contour to the space, they are durable, and the vertical design, helps create an "elongated" or open-kitchen feel/appearance, which will help recreate a smaller space, or a very limited kitchen size you are working with when remodeling the home.
Standard glass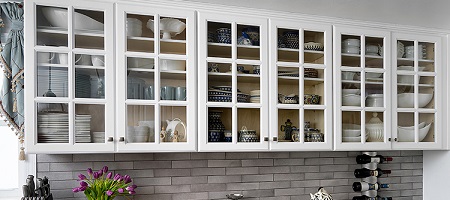 For the homeowner who wants their kitchen to be sleek, elegant, and transparent, look no further than glass cabinets for your kitchen. Whether you fit a wood panel with glass front, or do an entire glass-finished cabinet, there are several distinct benefits to choosing this material finish. It is elegant, sleek, and easy to maintain in the home, and it goes well with several other materials and finishes throughout.
Things to Consider before Buying
New cabinets not only help bring together an entire kitchen remodelling job, but also help recreate a dull or dated kitchen for a much lower price than other upgrades. It costs less than new appliances, you can choose from several finishes/materials, and you can easily pair the style of your new cabinets, with nearly any colour or design scheme you want. New cabinets give you more room, they help open up the area, and depending on the length and height, you can create a narrower/wider, or more "open" aesthetic appearance, based on the material chosen for your new cabinets.

Cabinets are a great way to accentuate other work you've done as well. From painting, to new furniture, or your new stainless-steel appliances, the new cabinets are going to bring the entire space together. It is important for homeowners to consider all material options, as well as the detail and work which goes behind installing new cabinets. If you are ready to upgrade your home's kitchen, but don't want to do an extremely big remodelling project, new cabinets might be a great project for you to consider next, when hiring a local contractor for the job.
FAQ section
Which material should I choose?
This really depends on your budget and personal preference. You want something that is sturdy, easy to care for and maintain, and a material which retains its value well. Additionally, homeowners should consider those materials which will help to open up the space, and bring the entire kitchen together.
Are new cabinets going to increase the kitchen/home's value?
Like other remodeling projects you do in the home, new cabinets are going to increase the resale value. If done with other work in the kitchen, this upgrade is greatly going to improve the overall aesthetic of the space, so it can help greatly increase the resale value of the home when you list it for sale.
How long will installation take?
Generally, installing and fitting new cabinets is a job which most contractors can complete in a few days, up to 1 week in most homes. If they have to custom fit, or custom order the materials for your new cabinets, this is going to increase the duration of the installation process, so you should account for this when choosing the material options.

How much will new cabinets cost?
Although they are cheaper than other remodeling projects, this doesn't mean new cabinets are cheap; especially if you are replacing them in the entire kitchen. So, you have to compare local contractors, manufacturers, and the material finishes, in order to find a cost-effective approach, and something you can afford to purchase, when the time comes for you to install the new cabinets in your kitchen.
Will glass break/damage easily?
Glass is more likely to break or get damaged a little easier than some materials; however, many companies have protective sealants, and use different protective agents, which help increase the strength/texture of the glass finish. So, they aren't as likely to break, shatter, or otherwise get damaged, once you have installed the glass.