Bricks - Types & Sizes
All you need to know about
Bricks

including the different types, sizes and costs.

You can use bricks for various projects. Constructing an outdoor fireplace, refinishing throughout the home, or even building a brick fireplace or stove, are a few ways in which you can incorporate bricks throughout different projects in the house. For homeowners who are doing new construction work, refinishing, repairing, or otherwise upgrading the home, choosing the right bricks for these projects, is imperative to the finish and detail. This post will help you choose the right bricks for your designated project, and the right bricklayer to install the bricks.
Bricks Sizes & Dimensions
Standard dimensions/sizes for different types of bricks are relevant in many situations, based upon how they are used, and the variety of projects that they are being used for. In addition to security and structural integrity, different bricks are traditionally sized at varying dimensions, based upon the production/manufacturing process of the bricks. Below are the standard dimensions, for some of the more widely-used brick materials.
List of Most Common Sizes
65 X 250 X 120 mm (length, depth, height)

194 x 92 x 71 mm (length, depth, height)

225 X 112.5 X 75 mm (length, depth, height)

215 X 102 X 65 mm (length, depth, height)

230 X 110 X 75 mm (length, depth, height)
Bricks Types
Bricks come in many shapes, sizes, colours, and material finishes. Sandblasted, concrete, pressure-treated or engineered, are a few of the many options available when choosing bricks. It is important to understand how these are made, the weathering process, durability, and structural integrity, to ensure that you choose the right bricks. It is important to choose bricks which are sturdy and those which will withstand the elements (and weather conditions) depending on where they are being used. You should also choose the bricks which will look best, regardless of where they are being installed in the home.
Sand-Lime Bricks

Engineered Bricks

Concrete Bricks

Common Burnt Clay Bricks

Fly Ash Clay Bricks
Sand-Lime Bricks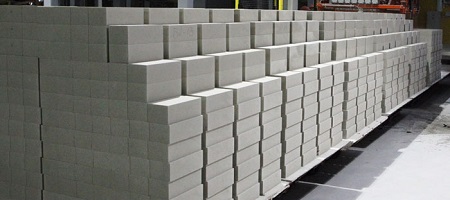 Sand lime bricks are one of the many options a homeowner can choose when installing a new fireplace, repairing or replacing old brick mantles, or installing a new outdoor fire pit. These bricks are made using fly ash, mixing sand, and lime. This is followed by a chemical process during the wet mixing phase, and the mix is moulded under pressure, to form the brick. These bricks are often sturdier than traditional clay or concrete bricks, and also provide intricate detail in design, which will stand out when being used for different projects being completed throughout the home or its exterior.
Engineered Bricks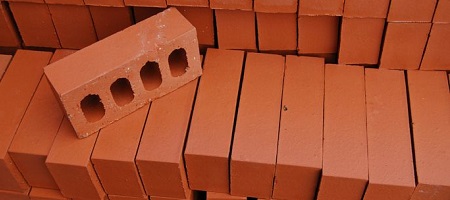 Engineered bricks are manufactured under extremely high-temperature conditions, which forms a dense and extremely strong brick. The engineering process allows the brick to minimise water absorption and increase its strength, making them perfect for use in outdoor projects, or for high-temperature settings, such as a fireplace or fire pit. Damp-proof characteristics make these bricks perfect for load-bearing projects. They are typically higher in cost than traditional concrete bricks, so they aren't used as often for projects, when redecorating or otherwise modifying different brick structures in the home's interior. The bright red colour is similar to those of concrete bricks.
Concrete Bricks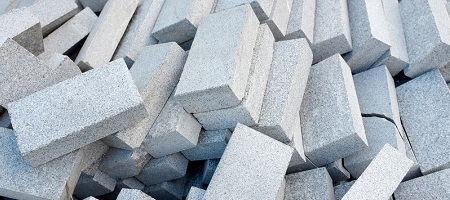 Concrete bricks are probably the most well-known and highly used material option for bricklaying projects. They are made from solid concrete and used by construction teams for building a home's foundation, fireplaces, or other brick projects being finished in a home. Fences, facades, and other similar jobs are completed using concrete bricks. The aesthetic appearance, and the fact that they can be pigmented in different shades and colours, makes them a prime option for those who like to custom-design throughout the home. They are sturdy, affordable, and manufactured in high volumes, making them readily available for bricklaying projects.
Common Burnt Clay Bricks
These bricks are constructed by a process of pressing clay into moulds to develop the shape, and are then dried by and fired in a kiln. No specific aesthetic qualities are typically followed in designing and moulding these bricks, and they can be used for nearly any project both indoors and outdoors. Plastering and rendering will be required when using these bricks in wall-construction.
Fly Ash Clay Bricks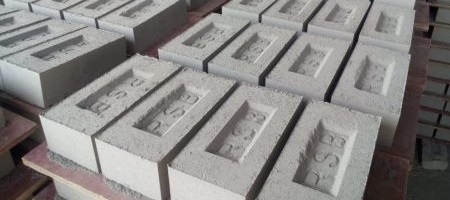 Both clay and fly ash are used in the manufacturing process, and construction process in creating the bricks can reach a temperature of up to 1000 degrees Celsius. These bricks are less porous than brick clays; however, have been known to expand when they come into contact with moisture. These bricks are known for smooth surfaces, and they have thin joints, meaning they don't require plastering when being used to construct a wall.
Things to Consider before Buying
Bricks come in different shapes, sizes, material finishes, and colours. Your budget is going to dictate the choice of material; however, this shouldn't be the only factor you consider. For example, if you plan on installing an outdoor fire pit or grill, you can't choose something like fly ash bricks, which are known to crumble in extremely wet or porous conditions. Due to the changing temperatures, and the fact that the bricks will be exposed to the elements, this wouldn't be the ideal choice. In addition to this, the colour, design and detail work should all be considered when making your choice.

If you plan on incorporating other materials or doing custom-detail and design work, this should be discussed with the contractors who are installing the bricks. Not only to ensure they can easily accomplish the task but also to ensure structural integrity. Homeowners should consider the overall aesthetic, the cost, design, and total costs of bricklaying. This will not only allow you to choose the best material for the given project, but also ensure you are going to be pleased with the final outcome and appearance, of your new fireplace, pit, fencing, or other brick-work you choose to have completed in or outside of your home.
FAQ section
Which Material Should I Choose For Bricklaying?
Several factors should be considered prior to choosing your bricksl. Overall costs, labour associated with bricklaying, colour, design, placement, and ease of care, are a few of the many factors you need to think about. There is no single answer as there is so many variating factors.
Can I Purchase The Bricks From Anywhere?
It is important you choose the right brick material, but also purchase from a reputable supplier. If you simply look for the cheapest material option, this is going to result in lackluster work quality, and the finishes aren't going to look good. It is worth spending a bit more on quality bricks, manufactured by a trusted-company, to ensure the quality is superior, and the bricks are capable of withstanding the area/conditions they are exposed to.
Are Bricks A Sturdy Enough Material?
Most bricks are suitable for interior or indoor work. However, you have to consider the outdoor elements, weather conditions, whether the bricks will be exposed to water/rain/snow, and sediment, to ensure you choose the right material for outdoor projects.
Are Concrete Bricks A Good Choice For A Fireplace?
Concrete bricks are one of the most highly used materials. Not only can they withstand high-temperature conditions, they are suitable for interior and exterior use. They can withstand the elements, and are one of the most affordable materials as well, making them a premier choice for many homeowners.
Which Is Best, Fly Ash Bricks Or Clay Bricks?
In every different aspect fly ash bricks are better than clay bricks. Fly ash bricks have greater strength and are also the most environmentally friendly options of the two.