Wooden Doors - Types & Sizes
All you need to know about
Wooden Doors

including the different types, sizes and costs.

Wooden doors come in many varieties. These doors can be manufactured and custom-fit for a specific frame or can be purchased from a manufacturer directly. Oak, engineered, pine, and different hardwood materials, are available for homeowners to choose from. Both hard and softwood materials can be installed by tradesmen when fitting a new door for your entryway or other rooms in the home. Regardless of your budget, there are several material options to choose from, when you decide to install new wooden doors in the home, and want to choose the best finish and grain to install in the home.
Wooden Doors Sizes & Dimensions
Most standard doorways are already cut to the proper specifications for your new door. Given this, some homeowners may have custom built doors or may have done work on their home, prior to installation of the new wood doors, so it is important to know the standard dimensions, prior to choosing new wooden doors. Of course, not all grains are exactly the same, but most standard entryway doors are similarly sized. Therefore, when choosing new doors, it is best to know the dimensions, rather than simply choosing any standard frame and door, which might not properly fit into the entryway.
List of Most Common Sizes
1981 X 1112 mm (height &, width) - standard door

2040 X 1016 mm (height & width) - standard entry door

1981 X 610 mm (height & width)
Wooden Doors Types
Oak, hardwood, pine, engineered oak; these are just a few of the many varieties available to homeowners when selecting new wooden doors to install in the home. Ultimately, the material chosen will greatly vary from home to home based on the budget and overall aesthetic appeal the homeowners envision when installing new doors. Because there are many grains, understanding texture, durability, how likely the grains are to rot, and other variables about the specific material finish, are a few of the many different variables a homeowner should familiarise themselves with, prior to selecting the material of choice for the new doors.
Mahogany

Oak

Cherry

Maple
Mahogany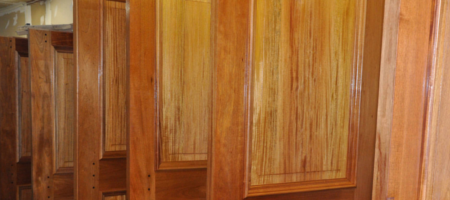 Mahogany is one of the most often used materials for wooden doors. The thickness and hardness make it sturdy, rot-resistant, and ideal for humid/wet climates, as they aren't prone to damage or expansion. American mahogany or those coming from South America are typically most durable because trees are grown in hot, sunny, and wet climates.
Oak
Oak is a highly-stable wood material, making it one of the most popular wood options for wooden doors. It is insect and fungus resistant, and it is waterproof. Cork, red, dark brown, and white oak, are among the many different varieties/finishes available, which also makes oak a popular option, for homeowners who want a grain which can easily blend in with the decor of their home.
Cherry
The wood grain has a smooth texture and tends to lighten over time, with exposure to the sun. The grain is durable, it is rot-resistant, and it is water resistant, making it a great choice for front-entry doors. It is also easy to maintain, cure, and the fine-grain material also makes it ideal for staining, for the homeowners who like custom-design/finishes.
Maple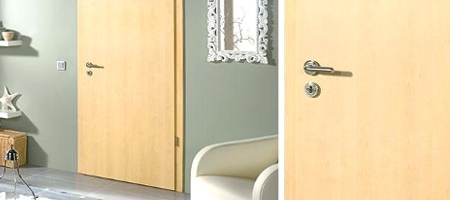 Maple is another dense wood material often chosen by homeowners installing wooden doors. It is known for its longevity, smooth texture and finishes, the strength, and its even grain/design throughout. It comes in different shapes/patterns including tiger, ripples, swirly-eyes, and quilted folds, making it a great option for those who like something intricate in design, and a material which will stand out.
Things to Consider before Buying
With so many wooden material options, homeowners should consider as many as possible, before deciding upon the one they will install in their home's entryway. The durability/strength, how easy the doors are to maintain, whether they are going to fade over time, or if they are going to expand or are very porous, are a few of the many variables you might be considering, when deciding on the material to choose, for your new wooden doors.

Homeowners also have to understand there are possible problems which can arise with wooden material, which isn't likely to happen with other materials. Rotting, denting/damage, the doors fading, and other imperfections, are all noted with wooden doors. As a homeowner, the distinct finishes and texture, are some of the many reasons why you have chosen wood for your new door; given this, you should also understand the detail, intricacies, and other factors, as it relates to new wooden doors. Whether you have a specific material in mind, or are just shopping for the most durable wooden grains, these are a few of the many factors to consider, before investing in new, costly wooden doors for your home.
FAQ section
Which grain of wood should I purchase?
Your budget will greatly impact the wooden material you ultimately choose for your new doors. Apart from this, the location, how much sun hits the door, the grain, texture, design, and light/darkness of the grain, are all factors which will help you decide on the best material for your new doors.
Are all doors the same size?
A majority of entryway doors fall within a "standard" frame size. With this being said, there are slight deviations in the length and width, which should be accounted for, when choosing new doors. It is important to properly measure the door, and frame, so that you choose the proper "standard" setting for the door.
There is always the possibility of wood rotting; however, there is treated wood, there are protectors you can apply to the wood, and there are some materials which aren't as porous, and aren't prone to rotting, as much as others. It is important to understand the wood grain, and how it will interact with its environment, based upon where you live, and plan on installing the new doors.
How long will wooden doors last?
If properly treated, and if you choose a high-quality wooden grain, the doors will last for 10-years or more, without having to be treated or repaired. Again, the material is chosen, how much the doors cost, and overall quality and durability of the wood grain, are all factors which will impact the longevity of your new wooden doors.
How much are wooden doors?
The cost is greatly going to be impacted based on the wood grain chosen. Oak, mahogany, and other high-quality wooden grains are going to cost more than cheaper variables, laminates, or pretreated/engineered wooden doors might cost you.