Fencing - Types & Sizes
All you need to know about
Fencing

including the different types, sizes and costs.

A new fence is a great way to spruce up your home's appearance and improve the curb-appeal. If you are listing your property for sale, it is a simple and quick way to recreate the front entryway, sides and the overall perimeter of your home. It also helps to create a sense of safety and security, which is a nice feature so many buyers are looking for, when the time comes to invest in a new home. Regardless of your reasoning for installing a new fence, you need to consider materials, finishes, and sizing options, to know you are getting the best quality work, and value for the money.
Fencing Sizes & Dimensions
Sizes for fencing materials should be considered prior to installing new materials. Depending on the height of the new fence, security levels you desire, and overall budget you've set for the project, the dimensions chosen will vary in each case. However, homeowners should consider standard fencing sizes when installing new fences, to meet requirements (HOA or ordinance) and also to ensure optimal levels of security, when installing the new fencing material outside of their homes.
List of Most Common Sizes
1828 mm X 1219 mm

1828 mm X 1524 mm

1828 mm X 1828 mm
Fencing Types
Fencing materials come in many shapes, sizes, and finishes. Chain-link, wooden fences, stainless-steel, or even perimeter/electric fences, are popular options for homes today. No matter the reason for installing your fencing, you want a material which is going to protect your property and will look good once it is installed. There are so many material options available to choose from, so these are a few of the top options we recommend below - all of which are available to all homeowners, whether they are ready to have a new fence fitted or are just comparing quotes and costs for new fences/materials to install outside of their home.
Wood

Aluminum fencing

PVC

Wrought Iron

Vinyl

Chain-link
Wood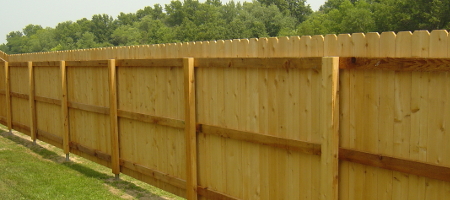 A picket fence is one of the most iconic finishes, which helps bring a home together. Bamboo, timber, pine, or a hardwood finish (like oak) are some of the options available for homeowners to choose when installing a new fence. Because the perimeter of homes vary greatly, the levels of protection sought vary, and because each homeowner has a different idea as to the decor (appearance of their home/fence), the dimensions of the new fence are going to vary greatly from one home to the next.
Aluminum fencing
Aluminum is one of the most basic fence materials you can choose, and it is also one of the most cost-effective options for you to choose for your home. It does not provide as much security as other materials, however it is easy to care for, doesn't get damaged easily, and it is relatively maintenance free, once you have it installed around the property. It is important to note in areas where severe weather extremes are an issue, this might not be the premier option for materials to choose, when installing a new fence.
PVC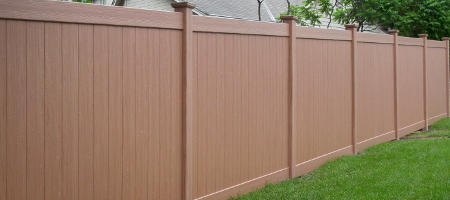 If you seek simple to maintain and care for, the stakes and picketing of a PVC fence can mimic those of a wooden fence, only they require far less care and maintenance, and are far cheaper than wooden fences. They are sturdy, have a cross-bar for stability, and they have fasteners and screws throughout, to help maintain the integrity. They are very resistant to the elements, so if you are looking for an affordable option, which won't rust or get damaged easily, and can last for years to come, PVC is a good option to consider when installing a fence.
Wrought Iron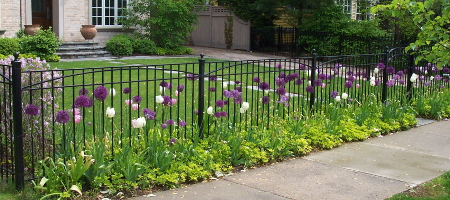 Whether you want the highest levels of security, or simply like the iconic look, and old-time appearance of these fences, this is one of the most popular materials for new fencing outside of a home. They are strong and beautiful, but do require upkeep/maintenance to prevent rust, and other forms of damage, especially in areas with plenty of rain. They also have to be stained or repainted every 3-5 years, to help preserve the overall appearance of the fence.
Vinyl
These fences are resistant to different weather conditions, they are extremely easy to maintain and install, and they are often thought of as stronger, more resistant, and more durable, than traditional wood fences. They will last longer, and when properly installed, they provide a high level of security outside the home.
Chain-link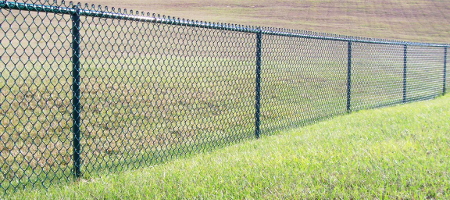 Cheap, durable, and very little maintenance required; these are a few of the benefits you will realise instantly, when you choose to install a chain-link fence outside of your home. They are durable; and, although they do not provide as much security/privacy as other materials, you can easily add other barriers, floral arrangements, and protective coverings, to help increase the levels of privacy outside your home, with this fencing material.
Things to Consider before Buying
A fence comes in many shapes and sizes; fences are often custom measured and fit to each specific home. It is important that you choose a contractor or specialist that regularly works with the material of fencing you want, is experienced in building those fences, and has an understanding of the properties/elements, and conditions where the fences will thrive, when installing a new fence outside of your home. Homeowners should not only consider privacy, but also the aesthetic appearance of the new fence, when choosing the material they will install around the home's perimeter.

Upkeep, general wear, how much maintenance is required, how often or how easily the materials break/get damaged, are a few of the additional factors you need to consider, in choosing a fencing material. Obviously, the cost of the new fence, and the installation, is also a variable which is going to weigh in on the decision making process for most homeowners. Ultimately, you want high levels of protection; with this being said, you want to choose a material which not only looks good, but is going to compliment the decor you currently have in place, such as your garden shed or patio area, when you're ready to install a new fence outside of your home.

FAQ section
Which fence material is the best?
Only the homeowner can answer this question. Sure, wrought-iron is more durable than a chain-link fence, however, the overall costs are polar opposites, the upkeep is far more, and they have to be maintained/repainted, every few years. This isn't the case with chain-link fences. You must weigh the pros/cons of each, the costs, and ultimately decide based upon where your home is located, and the decor around your home.
How long will installation take?
Most properties which aren't too large in size, shouldn't require more than 1-week to install a new fence. This should include any required permits which a contractor needs to get, getting supplies and materials ready, the labour, and anything else which is associated with installation. If custom fencing materials are being ordered, this is obviously going to delay the duration of the project.
How much will a new fence cost?
The perimeter of the property, any safety features (such as locks or intercoms), decorative features, where you live, the material, and sizing or custom-design work, are all going to impact the overall price of installing a new fence outside of the home. Before you decide on the fencing material, and contractor, make sure you compare several quotes to find the best options for your needs.
Why should I install a fence?
A sense of privacy, additional security for your family, a way to keep intruders out and keep the kids/pets in the home. There are many reasons why a homeowner would choose to install a new fence. For some common examples; if you want greater security, if you want to keep nosey neighbours at bay or if you plan on selling your property soon, fences can be a great way to boost the security. helping to increase resale value.
Can I install the fence myself?
There are some prefabricated fencing materials, or other DIY fencing materials you can install yourself. However, if you do not have the qualifications, if you haven't worked with the materials in the past or if you have never tackled larger DIY projects around the home, the installation of a new fence might not be the ideal first project to choose for you to start with. Instead you may wish to look at some basic redecoration work, like wallpapering walls, as a starting point.