How to Lay a Patio
A step by step guide on how to
Lay a Patio

including necessary tools, estimated costs, time frames, best techniques and what not to do.

Looking to lay a new patio? This how to article will help guide you through each stage making the whole project stress-free and simple. Laying a new patio is a great way to really recreate an outdated outdoor space and is one of the simpler DIY jobs you can do as a homeowner. If your patio is dated, dingy, or if you simply want to change up the appearance, a new patio will help you recreate that space entirely. This post will be helpful for those who are ready to modify their patio space or those who wish to create a new one from scratch.
List of Required Tools
Hardcore/Gravel

Bedding mortar

Sand & Cement

Spirit Level, Wooden Pegs & String

Shovel, trowel, grading rake

Tamper/vibrating compactor

Measuring tape

Hammer & block of wood
Step by Step Guide
This step-by-step guide is a simple approach to installing a new patio. The simple steps don't require much knowledge in building/construction, are easy to follow, and allow homeowners to lay a patio in no time at all.
1. Planning, Measuring & Marking
Before you do any excavation work make sure you've fully planned out your patio, and marked out exactly where it's going to be laid. This will give you a basic guideline of the project dimensions, and help keep you on track with materials, installation, and development as you progress.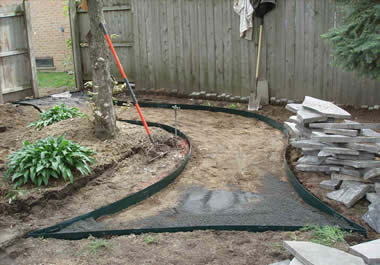 2. Digging & Levelling
Firstly you need to remove any old paving slabs or turf and dig to a depth of around 15-20 cm. Using a grading rake smooth/level the area where the paving slabs are going to be laid. If a solid foundation doesn't exist, you can't move forward in the process. Use pegs, string and a spirit level to mark out the levels of hardcore, and the final layer of paving slabs, ensuring that the paving slabs will match up to any surrounding areas such as other pathways or manhole covers.
3. Spread hardcore and Tamp
With a shovel, spread a level of hardcore on the area; once spread, level it with your grading rake. Repeat this process until you have around 5-10cm of hardcore. Use a tamping machine to compact the hardcore into a firm sold base.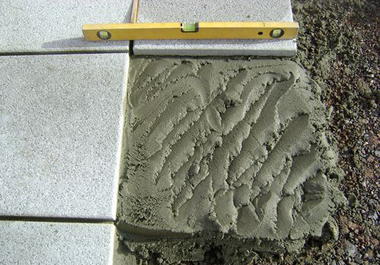 4. Add Bedding Mortar
Add a layer of bedding mortar, 6 parts sand to 1 part cement. A lime mortar should also be considered.
5. Laying your Patio
Once you have your level frame set up, you can begin installing the paving slabs. Make sure they are evenly spaced, and make sure they are being laid down level by using a spirit level and the string guides. The first slab is always the most important. Use the hammer and wooden block to gently level each slab. When levelling, make sure you integrate a slight slope away from the property or towards drainage.
6. Point your Slabs
Once you've laid your patio, leave it to settle for at least a day and then fill the gaps with a mix of sand and cement (4 to 1 ratio). Add water to until you have the right consistency and then fill the gaps using a trowel. Brush off any excess before it drys using a hard brush, and then clean with a damp sponge. Leave for another day and then you're free to enjoy your new patio!
How to Lay a Patio Video
Tips & Techniques
Make sure you choose quality paving slabs for installation. You might have to spend a little more initially but they should then last longer and save money in the long run. Additionally, if the patio area is a high-traffic area, they are more likely to withstand the pressure/weight. Make sure you invest in quality gravel, cement, and sand as well. You want the area to be firmly established and level; if you are trying to cut corners or purchase low-quality supplies, the lifespan of your patio is going to be cut-short.

Give it time. Many people will try to rush the process, but you shouldn't. Take the time to make sure the slabs are properly spaced, even, and that the foundation is leveled before you begin any work. The more time you take in improving the area, and creating an even base, the finer the finish and the longer it will last.
Am I best to hire a tradesman?
A new patio is one of the easier projects you can tackle as a DIY project. You don't need much knowledge, and there are hundreds of guides you can follow, to help with installing a new patio of all shapes, sizes and styles. This is a simple guide which most homeowners can follow, and can complete, even if they don't have much experience in DIY projects or outdoor projects in general. As long as the right materials are used as well as the correct ratios for your cement and mortar, then there shouldn't be many issues.

If desired, you can hire a tradesman to do the job for you instead. If you choose this route, whether it is because you don't have the time, tools, or the patience, make sure you compare several contractors before you hire one. This will give you a good idea as to the cost of laying a patio and help you choose the best tradesman for the job. Additionally, it will ensure your patio is solidly constructed, looks good, and that the work is done in a timely fashion.