Best Decking Paint
Everything you need to know about finding and choosing the best
Decking Paint

including important features, top product reviews and FAQ's.

Decking paint can be used for various purposes, such as to cover old paint or paint which is chipping/cracking, to give your deck a new look and finish, or simply to recreate an outdoor space which has seen better days. When choosing decking paint, homeowners must consider and compare the best products available. Not only is longevity, durability, and protection important, but choosing paint which will last for years to come, regardless of the weather conditions/extremes where you live, and the amount of traffic that passes on your deck, are among the factors to consider when choosing deck painting products and supplies.


The three best
Decking Paint

s
How to Choose a Good Decking Paint
Not all decking paint is the same; some have protective qualities, to help prevent damage, worn or cracked wooden decking, while other paints are intended to stain and help restore the vibrancy of the wood. Some decking paints also help to restore or improve the aesthetic appearance of the deck. When choosing decking paint, you have to consider your ultimate goal and the appearance you hope to achieve after painting. This will help you decide upon the best supplies and paints available when the time comes for you to paint your deck.

The brand name, quality and coverage of the paint, the number of coats you have to apply, and the manner in which it coats/seals the wood and protects it, are a few of the many factors you need to consider when comparing decking paints. Not only will this give you a better indication of the quality, but will also help you choose a long-lasting paint, which won't chip/crack or get damaged, shortly after painting. When the time comes to choose decking paint and painting supplies, these are some of the relevant factors you need to consider when comparing the best-rated deck paint.


The Top 3 Decking Paints
Having reviewed dozens of different products these are what we believe to be the best
Decking Paint

s on the market.
Best Money Can Buy: RonSeal Rescue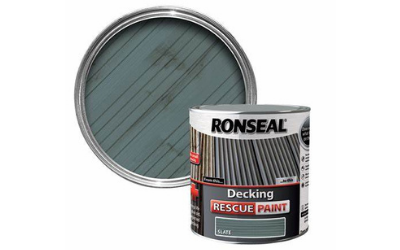 This rescue decking paint is ideal for "rescuing" your deck. It helps fill small cracks, seal splinters, cover graying areas in the wood in order restore the natural brilliance of your deck. A long-lasting and smooth finish is achieved with one single coat of paint. The paint is available in different shades/colours, which you can choose from based upon the current shade you have installed for your deck. Whether you prefer a slate finish, willow, oak, or other shades, there are different options available with this rescuing and restoring paint, which will improve your dated/damaged deck's appearance with one coat.
Cover up splinters and smooth out the deck surface.

Help restore the brilliance and help improve overall aesthetics of the deck.

Instantly provide natural shine, to an otherwise dated deck.

Improve the overall appearance or modify the current colour of an older deck.
This rescue paint is intended to do just that - rescue and restore a deck which hasn't been well-maintained or has seen plenty of wear over the years. If your deck is splintering, if there are cracks if paint chips and cracks are highly visible, this is a great option for you to consider, when restoring the deck. Not only is it an affordable way in which you can refinish your deck, but a single coat of the paint is going to fill the voids, and help to bring out the natural colour of the wood grain you want to see, on your deck.
See Product
Cheapest: RonSeal Weather Proof
A low-priced decking paint doesn't indicate it isn't a quality painting product. In fact, there are several great decking paints, finishes, stains, and satins, which are naturally going to help restore the quality/finish of your deck, and are highly affordable as well. This weatherproof paint is a great example of this. It offers 10-year exterior protection guaranteed, it can be used on painted/non-painted decks, and it helps prevent cracking, blistering, or damage to the wood, for years to come. Changes in weather conditions aren't going to spoil or damage the paint, nor will it cause bleeding after the deck has been painted.
Affordable paint which prevents damage, chipping, and cracking.

Helps restore the natural appearance of a wooden deck.

It can be applied to painted or non-painted deck materials.

It won't bleed or run after painting, and extreme weather conditions won't cause wear or damage to the paint.
Affordability doesn't mean you have to compromise on quality or detail when choosing decking paint. With this product, you not only have a paint which is intended to hide imperfections and help restore the appearance of your deck but will also help create a natural balance on your deck, whether it has been previously painted or not. It is weatherproof as well, so you do not have to worry about it fading if extremely sunny conditions, nor do you have to worry about it bleeding or getting chipped/damaged, in stormy or very rainy conditions where you live either.
See Product
Best Value for Money: Cuprinol Stain
As a paint and stainer, this is going to give your deck that "wet" gloss or shiny finish many people love, and it is also going to help to naturally preserve and maintain the deck over the years, if properly cared for. The matt finish is semi-transparent, so it is not going to give off an extremely dark appearance after painting. It is water repellant, so your deck is safe even in wet conditions. It is also showerproof in less than an hour after painting, so if it does get wet after application, you don't have to worry about bleeding issues or having to apply another coat on the deck.
Stain and paint, for high-quality, "wet finish" appearance.

Naturally stains the wood, to help bring out the material of your deck.

It is weather and showerproof, so even if it gets wet after painting, it won't bleed.

It helps restore and prevent damage to your deck with one coat application.
You want your deck to look great, and you want to restore the quality wood of your deck; but, you do not want to have to overspend on a paint or stain in order to achieve that look. With this paint/stainer, you aren't going to spend more than you have to, and will achieve the desired finish and appearance. Quality, weatherproof coating, and the perfect level of shine after painting, are a few of the characteristics you'll love about this product. And, a lower price is also an added benefit, for those who are on a budget when purchasing decking paint.
See Product
Important Features
Before buying a Decking Paint, these are a few features you should consider.
Protective Coating
You want to choose a paint which will preserve and protect the wood material of your deck. It should have a protective coating or layer which is going to help prevent damage from weather extremes as well as general wear and tear on your deck over the years. Whether you live in a high-traffic area, or a place where adverse weather is common, you want to choose a paint which will protect the deck. Before selecting a paint, make sure you understand its protective capabilities, for both sunny and extremely wet conditions.
Restoration
The deck paint chosen should help to restore the natural brilliance of your deck. Whether it is a high-quality wood grain finish, a dated oak material you have installed, or anything in between, you need to select a paint which will naturally help to prevent damage to the deck, and/or restore the appearance. Your chosen deck material was selected by your create a certain aesthetic, so, why not look for a paint product which is going to help maintain that appearance, while protecting the deck for years to come as well?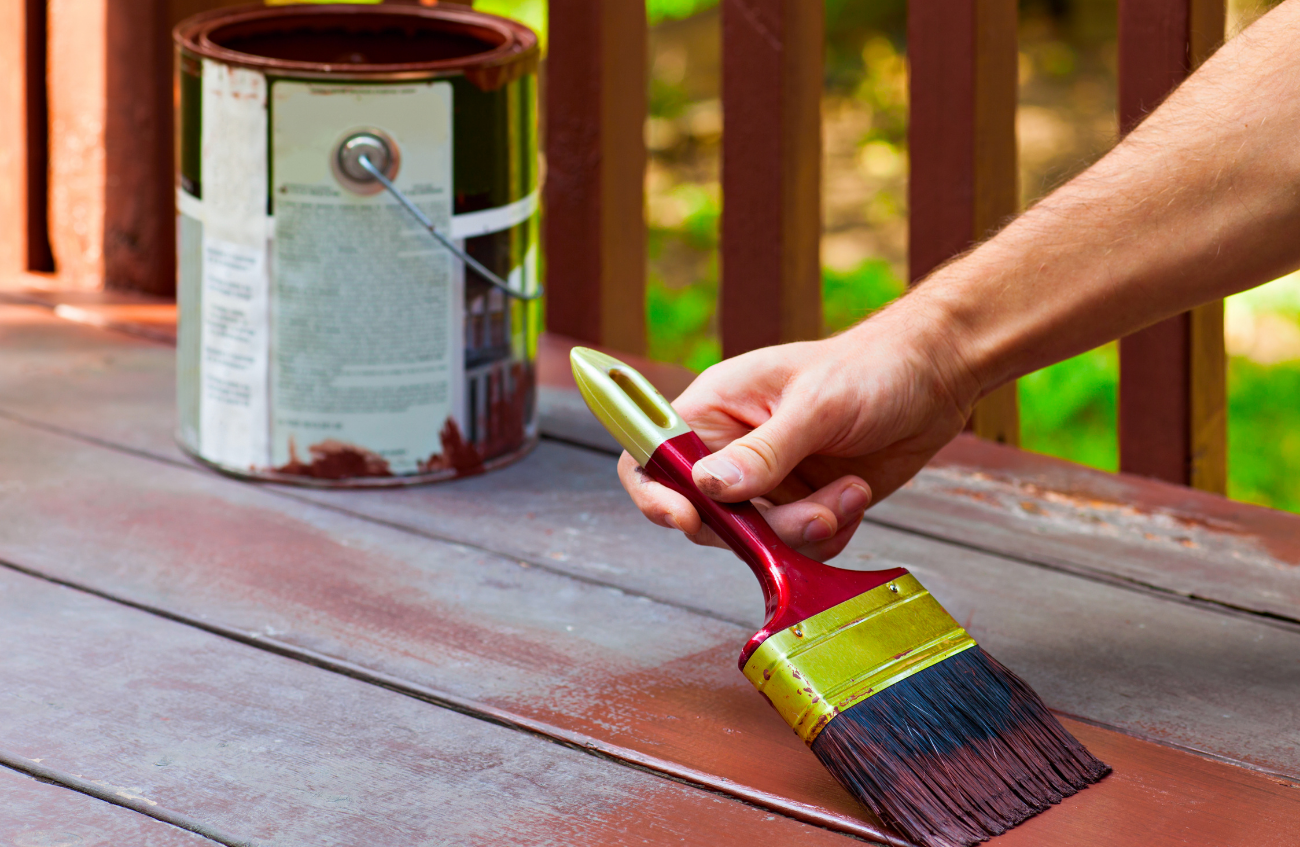 Single-coat application
When painting your deck you do not want to spend several hours doing this work. From drying and refinishing to applying two or three coats, some projects can be extremely time-consuming, and costly, if you do not choose the right decking paint to do the job. Look for a paint which indicates that single-coat application is sufficient when you are painting. Not only will this require less paint and less time to complete, but it is also going to ensure that your deck is going to look great, after only a single coat of paint being applied.
Chip/Cracking Cover
Many paints are intended to help restore the deck; however, some also have the capacity to cover up the chips, cracks, splintering, and help recreate a natural, smooth finish after you paint the deck. Keep this in mind when purchasing decking paint, as It will not only help you select the best quality paint, within the budget you have set, but it is also going to help improve the overall aesthetic appearance of your deck.
FAQ's
Which paint should I choose?
Some prefer the cheapest paint while others choose the paint which will protect from the elements. It is important to consider the decking material, where you live (weather conditions), and other factors, so you can choose the best paint for your decking.
Can the colour match/blend?
Should I apply more than one coat?
How much are decking paints?
Can I paint the deck myself?
Summary
Decking paints serve many purposes or functions; and, no two paints are going to have the same features or protective attributes. It is therefore important that homeowners compare a few decking paints, to find the one which will provide the protection they desire. It is also essential that you choose a paint which is the closest match to the natural colour of the existing decking. This articles showcases just a few of the features to consider, as well as suggestions for some of the most popular decking paints which are ideal for great coverage and also look good.