Cost of Repointing
All you need to know about having an extension fitted including costs of materials, labour and overall time to complete the job.
Repointing a house, a chimney, or a brick wall, are some services which a licensed service technician can perform for homeowners. In addition to comparing the price for services, homeowners also have to consider the type of work being performed, the duration for the project, and guarantees made by the licensed professional.

If you are in need of repointing services, this post will serve as a guide to help you hire the best professionals, find the most affordable pricing, and also ensure you are pleased with the services being performed, given the guarantees offered by the companies hired for repointing service needs.
About the Job
Repointing brickwork is oftentimes necessary in regions where weather conditions are often damp, rainy, or otherwise, cause moisture to build up around brick and mortar. The mortar which holds bricks together is referred to as pointing; in instances where this pointing has to be repaired, a tradesman can perform repointing services, rather than completely replacing the entire structure, which is far more time consuming and costly.

If mortar comes away from the bricks, this is a sign that repointing services may be necessary. Not only for structural integrity but also for an aesthetic appeal to the home. The first step a tradesman will take is removing the old mortar, which can be raked or drilled out to a depth of about 12 mm. In cases where shoddy work was previously done or extreme damage, this might go a little deeper into the structure.

Once removed, the new mortar will be made and applied to the area which is being repointed. All areas where damage is visible and surrounding areas will be repointed, in order to ensure structural integrity once the work is completed. The tradesman should brush away all excess mortar and residue, which will leave a smooth, even surface, once the work is completed. They should remove lumps and flecks to avoid crumpling/build-up, after the area dries completely.

Once the surface dries, if there are any blown bricks or blocks, these should also be addressed by the tradesman. In such cases, they can replace these bricks, in order to ensure structural integrity around the perimeter. In many cases, these can be sealed and repaired, which will ultimately help to keep the cost of the project down, and also help reduce the total amount of time it is going to take to complete the repointing services.

If cosmetic issues need to be addressed, they should also be dealt with at this time. The tradesman can do the sealing, caulking work, filling, and repair other voids on the brick and mortar surfaces at once, rather than perform the jobs individually.

These services shouldn't take long, given the size/area of the repointing which needs to be completed. It is important to choose a tradesperson who will use quality mortar, to ensure structural integrity and avoid piling, flaking, or damage in the future. Further, the entire surface should be levelled/smoothened after repointing is completed, to ensure the aesthetic appeal of the brick portions of your home.
Repointing Costs Breakdown
Here you'll find a breakdown of the costs of building an extension. We've broken the costs down by materials, labour and any additional costs such as waste removal and scaffolding.
Pros & Cons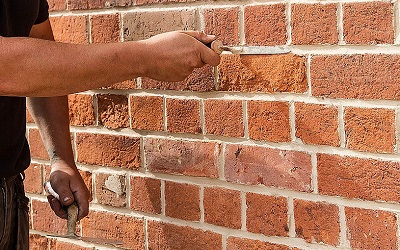 Of course, in some cases, you might consider replacing old brick, and completely starting the project from scratch, as opposed to repointing. However, before you make this drastic decision, it is important to consider the pros and cons of repointing, rather than complete removal and new installation of brickwork.

For starters, there are many benefits to choosing to repoint rather than replacing/new installation. First off, the cost aspect. Repointing will oftentimes cost half, if not less than it would cost to hire a team to completely knock down brick structures, walls, and chimneys, and reinstall these. It will take less time, require less work, and will require less equipment and materials.

In terms of the cons, there are some to consider as well. If not properly done, the repointing will look shoddy, you can see visual defects, and surfaces might not appear level. Additionally, if quality mortar isn't used, this can result in a weak structure, weak setting, and this can lead to similar damage in the future, which might end up costing you more.

There are several options to consider if brick structures/surfaces of your home require repair work. These are a few benefits/drawbacks to consider if you are deciding whether or not to repoint those surfaces.
It is cheaper than knocking down brick structures and replacing entire portions/areas of your home.

It takes less time to repoint than it would to completely rebuild a brick structure from scratch.

Repointing, when done properly, is structurally sound, and aesthetically appealing, once the work is completed.
If not done by a trained professional lumps might form, or uneven surfaces might be visible, detracting from the aesthetics of your home.

Poor workmanship will result in weaker structures, and may require additional services at a later date.

Quality of mortar, brick, and materials used will greatly impact the overall finish, so it might cost more when you are hiring a contractor.
Potential Problems
Some issues can arise with repointing. In some instances, if the damage is too great, or if there is damage to the actual brickwork, this might require complete replacement. This is due to the structural integrity of the structure.

Sometimes water damage can cause bricks and mortar to wear. If this is the case, replacing larger portions or performing repointing on certain areas, might not be the best option. In such cases, the work will end up taking more time, and likely costing more to complete the project.

Structural damage to other areas, such as siding, wood, shingles (around the roof area), might indicate a larger issue which has to be dealt with. In such cases, tradesmen might not be able to carry out the repointing work, and in the event they can, these problems must first be remedied, in order to avoid structural issues at a later point in time.
Additional Considerations
You don't simply want to consider the price of the job and nothing more. Other considerations you should account for, before doing repointing work, include comparing tradesmen's reviews/ratings, inquiring about guarantees, and understanding the complexities of the work they are performing. You should ask all questions related to the duration of the job, the materials they're using, and how long the repointed surface will last after it has been serviced.

Homeowners also should consider whether it is a good time to do additional work to the exterior surfaces. For example, this might be a good time to replace siding, repair damage to the roof, or replace other structures surrounding the brick/mortar being repointed. It is a good idea to inquire with the tradesman if they perform all of these services, and if so, if they offer a discounted rate/pricing package, for homeowners who hire them for all of these services.
Important Information
When hiring a tradesperson, consider those who have experience with masonry work, brickwork, and installation/repair services. A general tradesperson might not have the qualifications or skills required to do major repointing, but for smaller surfaces, you can possibly get by and hire a general tradesperson, which might cost a little less than a specialist.

For some homeowners, repointing brick and mortar might be a simple DIY project you can perform yourself. This, is of course, given the knowledge of working with brick and mortar. If it is a small area or only a couple of bricks which need to be repointed, you might consider doing the work yourself, rather than hiring a tradesman.

For larger areas or surfaces, DIY jobs might not be feasible. The fact that you need to rent scaffolding in some instances, and other equipment, makes it difficult to complete, and possibly dangerous for those who aren't qualified.
FAQ's
What does repointing entail?
Initially, the surface has to be leveled/smooth before new mortar is applied. So, the first step is to drill out the damaged mortar, and smooth/level the surface. Once completely removed, new mortar will be applied between the bricks. This will sit until completely dried, and then the area will be smoothened out, bumps and divots will be repaired, and sealants/waterproofing materials can be applied.
Do I have to repair the brick?
How much will repointing cost?