Real vs Artificial Grass
All you need to know about
Real and Artificial Grass

including maintenance and installation costs, suitability, appearance and overall value.

Artificial grass or real grass? If you are doing any work in the garden, or if you are simply tired of your grass dying and browning every year when you're ready to start planning, you've probably gone through this debate in the past. Here we'll discuss the differences between artificial and live grass, the benefits and cons of each, some of the cost aspects you should consider, as well as any other factors worth mentioning. If you are ready to work on your summer garden, this post will point you in the right direction when choosing your turfing material.
Pros & Cons of Real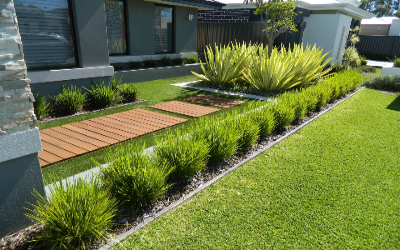 The obvious benefit of a live lawn is the beauty of real grass. It is aesthetically appealing, it is bright green (when well nourished), and it will truly stand out when you have a well-maintained lawn and garden. But, how about the homeowner who can't mow the lawn every week, or can't properly add soil and nutrients, to ensure it grows evenly and is sustainable for the entire summer season?

Although the benefit of real grass and aesthetic appeal is something which will draw in many buyers, there are also a number of drawbacks you should consider if you are debating whether or not to invest in live lawn grass. First off, the cost is higher. We're not talking about the initial upfront cost, as this is fairly low, but the ongoing maintenance that comes along with it. Lawn and garden fertilizer, soil, enhancers, weed killers, and most important, time (not to mention aching joints and muscles!). Add in the fact that you'll have to mow the lawn regularly and pull weeds routinely to maintain it, and you're going to be spending quite a bit of time outdoors, tending to your garden.

If you have the time, financial resources, and temperament to take care of a real lawn, you are greatly going to prefer the live grass and the aesthetic appeal it brings with it. However, you do have to consider the costs; not only the financial, but also the amount of time it is going to take for you to maintain the garden, and the amount of work you are going to have to do in order to naturally preserve the space.
Live grass looks and feels natural, it is gorgeous (when well maintained).

It is brighter, shinier, and has the finer aesthetic appeal.

It will truly bring out the entire space, and your garden will stand out from others.
It is expensive, not only to purchase, but also to maintain.

You need to fertilise it, mow the lawn, and pull weeds regularly.

It is prone to damage from the sun/elements, which can result in the unappealing aesthetics.
Estimated Material Cost
Budget Quality ( area in m2 )
Medium Quality ( area in m2 )
Premium Quality ( area in m2 )
Total:
Approximate Real Grass Material Cost /
£
0
Pros & Cons of Artificial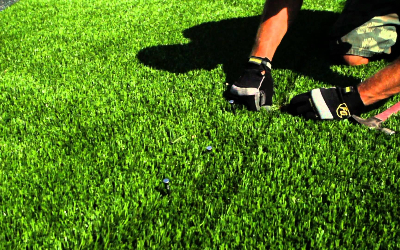 There is an obvious appeal with artificial grass... you don't have to do any maintenance work! If you are the type of individual who simply does not have time for watering, mowing, and general lawn and garden work, you will truly appreciate how easy it is going to be for you to maintain a lawn and garden area which has artificial turf installed. You simply have to lay it out, and once it is properly installed, there is no need to weed, mow, or to water the garden regularly, as is the case with real grass.

It also holds its form well. As long as you buy high-quality turf, it isn't prone to damage from walking on it. You don't have to worry about weeds or other plants growing, since it is not live, and it isn't being fertilised, and is obviously sealed. It is expected to last up to 25-years in some instances; so, although it is going to cost more upfront, it will last for years to come.

There are some drawbacks as well. It is not as Eco-friendly, depending on the manufacturer you purchase from, as it is made with recycled and un-recycled materials. It tends to be harder, so if you fall or slip on it, you will feel it, and it might result in scrapes or nicks, which isn't the case with live grass. You can also see the textured patterns, so it can be easy to spot artificial lawn if a budget material is used.

It is a good option for those who don't have time to garden regularly, but there are also some detractors which should be taken into consideration.
It won't get damaged, nor will weeds grow.

It lasts for several years and is made of durable materials.

It requires virtually no work or maintenance, making it simple for any homeowner to maintain the lawn/garden.
It can be obvious that it's fake.

It is costly to purchase and install.

It is not as Eco-friendly as a live lawn.
Estimated Material Cost
Budget Quality ( area in m2 )
Medium Quality ( area in m2 )
Premium Quality ( area in m2 )
Total:
Approximate Artificial Grass Material Cost /
£
0
Let's Compare!
Ongoing Costs & Maintenance
In terms of overall cost and maintenance, an artificial lawn is more cost-effective. It will cost more up front to install, however, after this there is no additional investment. You don't have to worry about weed killers, purchasing fertiliser, lawn and garden work, mowing, or hiring a company to do work in the garden. So, you will simply pay the cost to install and lay down the artificial turf, and after this, you won't incur any additional costs to maintain it.

Overall maintenance is also far easier. As detailed above, you don't have to pull weeds regularly, nor do you have to worry about mowing the grass. You don't have to deal with watering the lawn, and you aren't going to have to do any maintenance or manicuring work. If you want something easy to deal with, which will allow you to maintain an outdoor garden space outside of your home, then an artificial turf lawn is more cost-effective.
Appearance & Suitability
The clear winner is a live lawn. It not only looks like real grass, it feels like it, and you can spot the artificial lawn from a distance. Live grass grows greener, it grows taller, and it simply looks natural. This is not the case with an artificial turf and outdoor garden area. With live grass, you can also plant more floral arrangements, and you can do more decorative work, which is really going to bring your lawn and garden space together, so it will stand apart from others.

Live grass does require quite a bit of work and maintenance to preserve it, however. So, you must be willing to do weeding, watering, and garden work, if you truly want the space to look its best. If you have the time to do the work, and you are willing to do the heavy lifting which comes alongside maintaining a garden, and if you have the budget to do so, then a live lawn and garden is a superior option in terms of appearance.

It is worth noting however that these days with some of the more premium artificial grass options, the appearance is very close to reality so if you can afford the initial outlay, artificial grass can compete.
Additional Considerations
You obviously have to consider the work which goes into maintaining a live lawn and garden space. This is the major factor which is going to help you determine whether to choose live or artificial turf. If you are not willing to do the garden work, if you don't have time to pull weeds regularly, or if you simply don't have a way to mow your lawn every weekend in the summer, it is not going to look good, so it might not be the best option to choose a live lawn, but rather to go with artificial turf.

In addition to this, overall costs have to be considered. Artificial turf is cheaper over say a 10 year period; it will cost more up front but doesn't require any maintenance, nor the cost of supplies to carry out said maintenance. So, you do have to consider the overall costs, you have to set a budget, and determine if you can afford to and if you want to maintain a live lawn and garden.

Depending on your situation, your budget, and the amount of free time you actually have available to you, both options are worth considering.
Overall
For the majority of homeowners today, the time and dedication it takes to preserve a live garden simply isn't something that many are willing to do. Because of this, artificial turf might be the better option, when deciding which of the two materials you are going to use.

The simple fact that you don't have to do any maintenance work, and that it is going to cost virtually nothing (in terms of gardening and maintenance), makes it a very appealing option for most homeowners and allows them to have the garden they love all year round. With many different types of artificial turf to choose from, you can also find those which mimics the appearance of a live lawn, which makes the option to install artificial turf even more appealing to those who don't have the time to maintain a real grass lawn.