Laminate vs Hardwood Flooring
All you need to know about
Laminate and Hardwood Flooring

including maintenance and installation costs, suitability, appearance and overall value.

Both laminate and hardwood flooring have their own distinct characteristics which set them apart. One is affordability the other luxurious. One is more attainable while the other is something most homeowners can't afford. The differences extend beyond the pricing of the materials as well, however.

Here we'll detail the differences, the similarities, and how homeowners can ultimately choose between the two. Ultimately, the budget is going to be a major indicator as to which you will choose. But, there are other areas you should also consider when you are choosing whether to go with laminate or with hardwood flooring for your home.
Pros & Cons of Laminate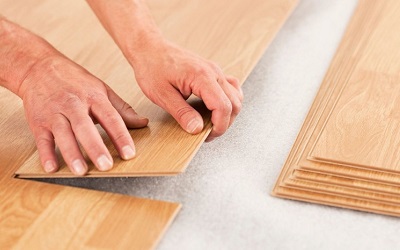 Laminate is cheap! This is probably the major draw which drives most homeowners to choose it. You can install laminate throughout your entire home, for a lower price than it would cost to install hardwoods in one or two rooms of a home. So, the homeowners who are on a tight budget, are going to love that they can afford more, while still getting that "natural" hardwood appearance, for a fraction of the price with laminate.

Another pro is that it is durable. Laminate isn't prone to damage. It can take abuse, heavyweight, dropping large items on it, and so forth, without too much damage, if any. This is not the case with hardwood floors at all. Laminate doesn't scratch, and if it does, you can usually wipe it off the exterior surface where it is visible. Laminate comes in many shades, sizes, designs, colours, and you can choose from different material appearances as well, allowing you to create a truly unique look throughout your entire home.

Of course, there are some drawbacks. With the cheaper material price, also comes a far cheaper quality than what you can expect if you were to install hardwood floors in the home. Laminate won't last as long, and you will have to replace it more often. It does take longer to settle, it is prone to lifting or shifting from the area where it is installed as well. So, these are all factors to consider.

It is important to weigh the pros and the cons when deciding on a laminate finish for your home's flooring. It is cheap and something most homeowners can afford to install, but there are also issues with quality, cheaper appearance, and the fact that you have to replace it frequently after you originally install the new flooring.
The price is right! You can install laminate throughout an entire home for less than hardwoods in a few rooms of the home.

It offers variety. If you like colours, designs, and variety, laminate is going to offer many options.

It looks like "the real thing." Although some can differentiate, if it is properly installed, quality laminate really does look like hardwood flooring.
It is prone to shifting or movement, so it won't look as even/uniform in the home, as the traditional hardwood floors will look.

It is not as durable, and it is considered a cheaper variety of flooring.

You have to replace it often, and it does not last as long as real hardwood flooring material is going to last in the home.
Estimated Material Cost
Budget Quality ( area in m2 )
Medium Quality ( area in m2 )
Premium Quality ( area in m2 )
Total:
Approximate Laminate Flooring Material Cost /
£
0
Pros & Cons of Hardwood
Hardwood floors are luxurious. They not only look good, but you can also feel the quality right below your feet, each time you step on it. It does not creak or shift. It is not going to damage easily, nor is it going to look dated after you install it, or a few years after. If you want longevity, traditional, and quality, you can't go wrong with hardwood floors in your home.

The simple fact that they can last for 20 years, or longer if they are well maintained and preserved, makes the type of flooring material one which so many homeowners wish to install when they are ready to update the flooring in their home.

Hardwood floors come in various wood grains, colours, and textures. You can also choose from different sized sheets, or slabs, for a textured, or different look, in each room you are installing it into. If you like a variation or want to do a specific design, you can easily achieve it when you choose hardwood flooring material for your home.

Hardwoods are costly, extremely costly! They do require routine maintenance, and you have to polish them for them to preserve and retain the natural shine and brilliance. Hardwoods are prone to damage or scratching as well, so your costly investment can get damaged, if you do not put a protecting shield or coating over it. And, it typically has to be shipped, so it will take longer to install than a laminate floor would take.

Hardwood is luxurious and it looks elegant in any home or setting; with this being said, there are some drawback/cons you should consider. These are a few of the great features, and factors you should consider if you are contemplating installing new hardwood floors in your home in the near future.
It is natural, it is elegant, and you can tell the difference between the quality of hardwoods and laminate.

It is shinier and preserves itself well. It can easily last over 20 years when properly cared for.

It retains its shape well. It won't shift or move, as is the case with some laminate flooring materials.
The price is much higher than laminate; you can probably only install one or two rooms for the price it would be for an entire home of laminate.

Wood is prone to scratching and damage. If you aren't careful it can cost you.

It requires maintenance. Polishing, regularly waxing, and cleaning, which is going to add to the already high price.
Estimated Material Cost
Budget Quality ( area in m2 )
Medium Quality ( area in m2 )
Premium Quality ( area in m2 )
Total:
Approximate Hardwood Flooring Material Cost /
£
0
Let's Compare!
Ongoing Costs & Maintenance
In terms of cost/maintenance, laminate is the superior option. It does not require any maintenance (virtually), all you have to do is mop it a couple of times a week and it looks good. Further, no maintenance is required to preserve it, and it is not going to be damaged as easily as a hardwood floor is going to be.

You don't have to routinely polish it, you don't have to worry about waxing the floor, nor do you have to worry about what will happen to it if you drop something heavy on the laminate.

It is an extremely cost-effective option for the homeowner who wants the look of hardwoods, but can't afford them. No maintenance, easy to care for, and extremely affordable, are a few of the perks to choosing a laminate flooring finish when you are getting ready to install new flooring throughout your entire home.
Appearance & Suitability
You can easily spot the differences in laminate and hardwoods. If appearance is something that you highly value when you are decorating your home, and you want every corner of your home to look its best, then the hardwood is the superior option you will turn to when deciding on the flooring material to install in your home.

Hardwood floors not only look good, but they are also elegant, pristine, and they truly retain their form well, so they are not going to fade or look dingy after a few years of having been installed, nor are they going to yellow at the edges/sides.

Hardwood floors do require regular maintenance, polishing and waxing. However, this is going to help retain and preserve the shine, the natural beauty, and the natural grain finishes, of the specific wood you have chosen, for the hardwood flooring that you have decided to install in your home.

When it comes to the look and feel of luxury, you can't go wrong with hardwood floors. They not only retain their form very well, even several years after they have been installed, but you can also easily spot a quality wood grain, the moment you step into a room where it is installed as well.
Additional Considerations
Of course, you can't simply look at the price, or else everyone would choose laminate when deciding on new floors to install in their home. So, when the time comes for you to decide which new material you are going to choose when installing new flooring in your home, there are additional factors to consider.

The time to install and the size of the flooring sheets should be considered. This will affect the placement and overall appearance in the room. You also have to consider grains, shades, textures, and finishes (gloss, shiny, matte, etc). Each homeowner has a different vision in mind, so you need to go with a material which will allow you to attain it.

The contractor you hire and the retailer you choose to buy the flooring for, is also important when it comes to the finishes, quality, and detail/design you can expect, with the new hardwood or new laminate floors you choose for your home.

You have many options when you are ready to install new flooring in your home. These are a few of the factors, in addition to the price and duration of installation you should consider, in order to ensure you make the right material decision for your home.
Overall
Ultimately, hardwood floors are going to look better. They shine more, they are brilliant, they come in various grains, colours, and styles, and they can last in a home for several years. Although they are going to cost more upfront, they are also going to draw in higher resale value if you choose to sell your home, as you can market it with "original hardwood floors."

So, for the homeowner who is considering appearance, quality, detail, and design, you can't go wrong with hardwood flooring for your home. It not only looks good, but you also know it is designed to last for years to come. Whether it is for one room or the entire home you are installing new flooring throughout, if you can accommodate it in your budget, the best option for your new flooring is going to be to choose a hardwood material finish for the installation.