Gas Stove vs Electric Ovens Ovens
All you need to know about
Gas Stove and Electric Ovens Ovens

including maintenance and installation costs, suitability, appearance and overall value.

Both gas and electric stoves have their benefits and drawbacks. As a homeowner, it is important to consider all aspects of each, before you ultimately decide on the new appliances you will install in your home. Cost alone shouldn't be your motivating factor when it comes to deciding which one to buy, although it will play a role.

Here we'll take a look at one option in each category, to help you better prepare yourself, and properly evaluate your options, when you are trying to decide between a gas or an electric stove to install in your home's kitchen.
Pros & Cons of Gas Stove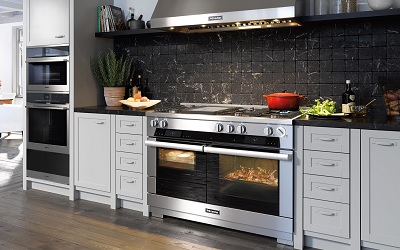 Gas stoves have large burners, which make it extremely easy to prepare larger meals, more dishes, and finish cooking your meals in less time than electric stoves. They heat evenly, they heat up faster than electric stoves, and they are sleek and elegant in design, making them aesthetically appealing for homeowners who are considering installing a new stove in their kitchen.

Stainless-steel exteriors are modern and give your kitchen an "updated" feel, which is perfect for homeowners who want to resell their home in the near future.

The gas settings allow you to easily adjust lower temperatures for searing, steaming, or preparing other dishes. Simple twist adjustment-knobs give you more control of temperatures, and vertical (rather than horizontal) heating elements, ensure foods are cooked evenly throughout. For those who are going to prepare larger dishes, it does have a large rear-sealed burner, allowing you to prepare foods in larger pots and pans on the stove-top.

An efficient burner, quick heating time, and powerful heating elements make cooking with a gas stove extremely enjoyable. For the avid cook or those who simply want to reduce meal-prep times, you are bound to appreciate the great features and design of a new gas stove.

Foods seem to taste better when prepared on a gas stove, and the ability to better control temperatures and avoid overcooking/heating, allows you to better control cook times when using a gas stove.

It is of course, important to consider the drawbacks as well. With a gas stove you are required to have the proper gas lines setup; and, if you don't, they are extremely costly to install. And, in some areas, you simply can't install a gas line, which limits the ability to install these stoves in the home.

Sleek and elegant design with multiple functions makes a gas stove a great option for homeowners. With this being said, as a homeowner, the price of the stove, and the upgrade to gas in the home are some things to consider before choosing this stove for your home.
Elegant and sleek, stainless-steel exterior body gives the stoves a modern look/feel, and "updated" appearance in your kitchen.

Large burners reduce meal-prep time, and makes preparing multiple dishes easier.

Gas stoves retain heat evenly and allow you to better control temperature settings.
Updating gas lines or installing new gas lines is costly if they aren't already installed in your home.

In some areas, you can't install gas lines limiting the ability to choose a gas stove.

They are typically pricier than their electric-counterparts.
Pros & Cons of Electric Ovens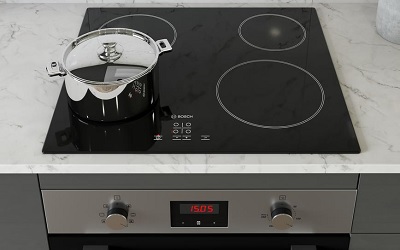 Electric stoves are often chosen in homes today for many reasons. The simple design, flat-top finish, and ease of maintenance are a few of the selling points many homeowners can appreciate. Electric stoves have a flat glasstop finish. This means after each meal is prepared, you can simply wipe it down. No extensive cleanup, or long times having to stay in the kitchen cleaning up a mess after you prepare a large meal.

Electric stoves are easy to maintain. They don't require much maintenance, you don't have to worry about gas outages, nor do you have to worry about potential fire damage/threat, which is more so an issue with gas stoves. They work like all other appliances in the home, and they can be installed virtually anywhere.

Electric stoves typically have multiple burners. You can adjust heat settings in the front and the back burners, allowing you to better decide how to prepare your meals, and giving you control of heat settings/adjustments, for the dishes which you are preparing on the stove.

Electric stoves also seem to have a more "modern" look and feel. Many have LED readings, you can easily adjust/gauge temperatures, and you have various time settings to choose from. These stoves also have different settings based upon the types of meal you are preparing, or foods you are cooking, which will make it a little easier to properly time meal-prep, and ensure foods are cooked evenly throughout.

If you are on a budget, these are typically cheaper than the gas stove as well. You can choose from various reputable brand names. Most come with standard warranties, so you know your new stove is covered. They are easy to use, set, and adjust settings, which makes the electric stove one which is easy to use, for any homeowner. And, for those who aren't great cooks, or don't relish in meal-prep, they are easier to work with than gas stoves as well.

Electric stoves can be installed anywhere.

LED readings, settings, time options, and meal prep options make the stoves easy to use.

They rely on convection heating, which ensures even heating throughout when preparing dishes.
Electric stoves don't heat as quickly.

Flat surfaces can get scratched/damaged, more easily than traditional gas burners.

They might not be as efficient as gas stoves, since they take longer to heat/retain heat levels.
Let's Compare!
Ongoing Costs & Maintenance
The cost of the gas stove is cheaper, and maintenance is also going to be cheaper. Because it is working on an ignition switch, it is not prone to electric failure or malfunction, as might be the case with your electric stove. In addition to costing more (upfront) to purchase, the electric stove is also going to require routine maintenance, which you probably are not going to have to worry about with the gas stove.

The costliest aspect of the gas stove is the installation of a gas line if your home is not properly fitted to produce gas heat for cooking. Apart from that, it is a superior option to the electric stove. It cooks evenly, it heats up quickly, and the purchase price, as well as the maintenance costs for you to own a gas stove, are likely going to be cheaper than the electric. When you know how to properly utilize the stove, as well as the heat settings, and all of its features, you are also going to love the way which your dishes and foods are going to taste when cooking on the new gas stove.
Appearance & Suitability
The electric stove is a little more appealing and easy on the eyes than the gas stove. The gas stove has bulky burners, so this is a drawback some homeowners don't want if they prefer a modern, sleek, and elegant finish and detail in their kitchen. The electric stove also has a sleek and elegant flat, convection cooking top.

This is going to look good in any kitchen, and it is more of a modern design, which many homeowners are looking for today, when they are looking to invest in a new stove or new appliances in general, for their kitchen.

The electric stove also has sleek and elegant knobs, as well as the digital LED reading, so you can easily see the cook times, heat, and other settings on the stove. If you are the type of homeowner who wants to have modern styles, and elegant looks, then you are probably going to prefer the electric stove.

It is modern, it has a sleek design style, and the updated finishes and stainless-steel body, are going to fit well into any space, and with any decor, you might already have in place, when you choose this stove to install in the kitchen.
Additional Considerations
Homeowners should consider cost of maintenance. In addition to this, you should also consider:
- The ease of operation and how easy it is to maintain the stove.
- Whether or not it has a self cleaning function.
- How quickly it will prepare your foods, and how easy it is to operate.
- The taste of the foods, and proper heating techniques you can utilize when cooking with your stove.

You have so many options when it comes to choosing a new stove, and new appliances in general, which you are going to buy for your home. Therefore, you should consider every relevant factor and consideration, which will make the purchase decision a little easier on you in the end.

Homeowners obviously have to consider the cost as well. In addition to maintenance, cost of replacement parts and service calls, if you have to hire a technician to do repair work on the stove. All of these factors, in addition to the type of heat and type of wiring you have set up in the home, will play a role in your decision making.

Some homeowners simply prefer gas over electric (or vice versa) and this will ultimately drive their decision in the end.
Overall
When it comes to buying a new stove, gas is ultimately a far superior choice for cooking. It heats evenly, it retains heat well, and the ability for you to adjust temperatures to your liking, are a few of the many reasons that it is a superior option to the traditional electric stove, which so many people have installed in their homes today.

If you simply want quality, elegant design, and efficiency, you are going to find that the gas stove is going to deliver on each of these fronts, whereas the electric stove doesn't offer as many options for you, in terms of meal prep.

The gas stove has more features, a larger capacity, and it is also easier to work with, if you are an aspiring chef in the kitchen, or if you love to entertain and strive to always serve the best-tasting dishes to your guests at parties.